CD Ripping / Encoding Guide (part 3)
ENCODER:
Encoder: select Lame MP3 Encoder (version 1.32, engine 3.96 MMX). You can also experiment with other encoders.
Quality: select --alt-preset standard. You can try other presets, but they will increase the encoding time. Don't recommend On-the-fly_encoding unless hard drive space at a premium.
Output sample rate: Select Auto. Do NOT change anything else.
Note: The current focus is on encoding to MP3. You can use the dropdown box and slect other superior formats such as Ogg Vorbis, AAC, MP4 and MP3pro.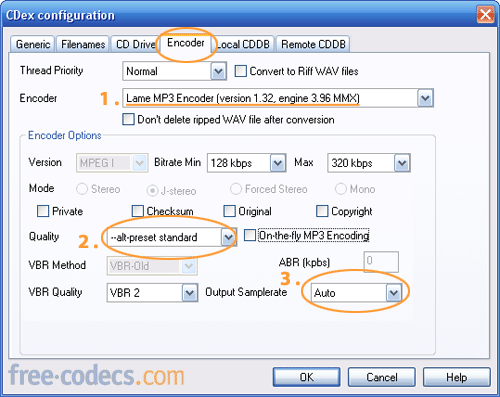 REMOTE CDDB:
Your e-mail address: Enter an e-mail address. It need not be your real one as long as it follows the username@domain.com format.
Timeout (seconds): Type in 30 or higher if you have a slower connection.
Tick the box to Auto connect to remote CDDB.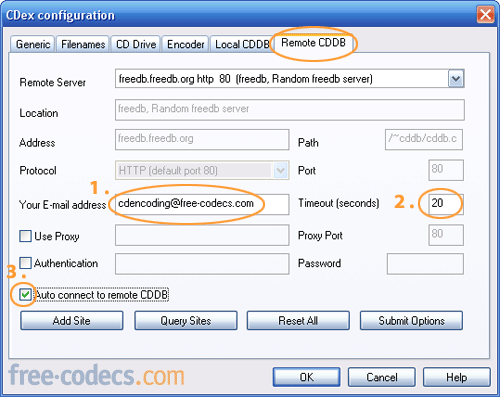 RIPPING CD:
Insert your CD. If you're connected to the internet, The Remote FreeDB Query will fill in all the album and track info automatically for you. You may have to select the genre of music manually with dropdown box.
Select all tracks by pressing Ctrl+A. If you don't want to rip all the tracks, just select the one you want by using the Control key. Hit F9 to Rip To Compressed File or click the button on the right.
Now you're rippin'!

Note: Depending upon speed of your computer, CD/DVD ROM and ripping method, it should take between 5-20 minutes.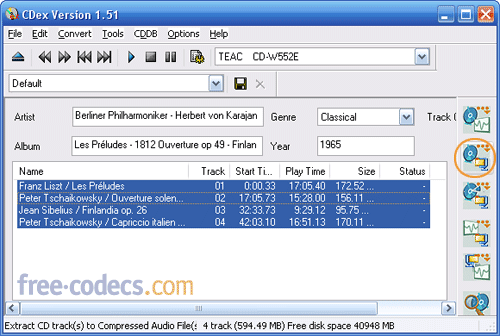 The screenshots were taken using CDex 1.51, the latest version. Being an open source program, the program continues to evolve, but basically the steps will remain the same.
Most of all, have fun and don't be afraid to experiment.
- by Corey A Misch (Mischcabob) -
---
Table of Contents:
1. Introduction
;
2. Using CDex
;
3. Encoder
Be the first to write a review or just post a comment about CD Ripping / Encoding Guide (part 3).