Marshall Electronics Upgrades Four Camera Models with NDI Codecs
Marshall Electronics, a company that produces cameras, has announced that it has added NDI codecs to four of its camera models.

NDI, or Network Device Interface, is a technology developed by NewTek that allows video and audio sources to be shared over a network connection.
It enables the connection of devices such as cameras and video mixers directly to a computer network, eliminating the need for additional hardware such as capture cards.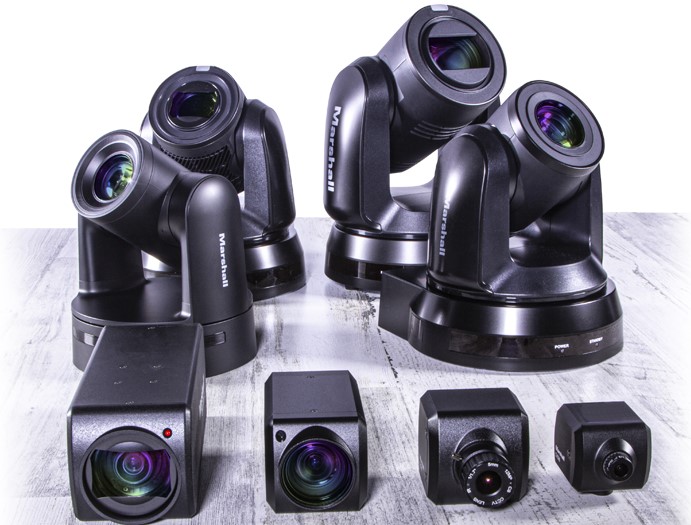 The new models include the CV570/CV574 Miniature Cameras and CV370/CV374 Compact Cameras, all of which support low-latency NDI|HX3 streaming, as well as standard IP (HEVC) encoding with SRT.
Additionally, they offer a simultaneous HDMI output for traditional workflows.
Tod Musgrave, the Director of Cameras for Marshall Electronics, expressed excitement about the company's latest offerings, saying, "NDI has been a great success for Marshall with a variety of options from which to choose, including zoom and full PTZ models.
Adding NDI|HX3 and IP to our miniature POV camera line was inevitable and doing so with high-end UHD sensors is a very exciting development."
The CV570-ND3 miniature and CV370-ND3 compact NDI|HX3 cameras both use a new Sony HD sensor, supporting resolutions of up to 1920x1080 (progressive), 1920x1080i (interlaced), and 1280x720p.
They also have interchangeable lenses, multiple broadcast framerates, and remote adjustability. The cameras feature durable bodies made of lightweight aluminum alloy with rear I/O protection wings.
Marshall Electronics has also introduced the CV574-ND3 miniature and CV374-ND3 compact NDI|HX3 cameras, which have similar features to the previously mentioned models but use a new Sony 4K (UHD) sensor. All four cameras can be set to NDI|HX3, NDI|HX2, or standard IP, relying on H.265 and SRT.
The CV570 (HD) and CV574 (UHD) cameras have a miniature M12 lens mount and measure 2 inches x 2 inches x 3.5 inches. Meanwhile, the CV370 (HD) and CV374 (UHD) models have a slightly larger aluminum alloy body with a CS/C lens mount.
The new NDI|HX3 format requires slightly higher bandwidth than previous NDI|HX2 but much less than is required for full-NDI. According to the company, NDI|HX3 offers similar low latency as full-NDI at less than 100ms end-to-end and provides video quality performance closer to premium full-NDI lossless video quality.
With these new models, Marshall Electronics continues to expand its reputation for producing high-quality cameras that meet the needs of a wide range of industries, including broadcast, sports, and live events.
These cameras provide reliable, efficient, and cost-effective solutions for delivering high-quality video over IP networks, making them an appealing choice for broadcasters, videographers, and event producers.